Our cable labels and new products we are manufacturing with Tech Cable Labels have great lasting quality, with self-laminating wire and cable labels, your printed or hand-written information is protected under a strong layer of clear film to give it protection.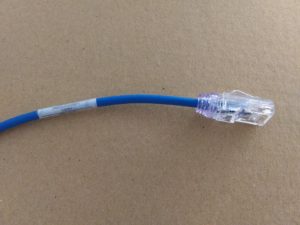 We have used cable labels around the world for the last 30 years, from the UK installing across every corner of the UK to the EU with all the different regulations.
Then to the USA, Canada and from there across the world in the most difficult installations in the world with short time scales, from Italy, Germany, UK, France, Finland, Sweden, Spain and across the pond to most Caribbean islands, Canada, Mexico, Panama, South America and across the USA.
The point is others in this industry just stay in one spot selling the same old cable labels year after year to the contractor who never reported back or gave feedback on how to improve the product.
Not so at Network Connections Group USA, we have feedback from every server room, cruise ship and place in the world which give our company the most data to make and sell the best cable labels and associated products.
We use to re-sell some labels from the UK, which worked most of the time, but our feedback was not taken on board or we had excuses like "we look at it after the next batch" which never happened. The UK products use to Jam the printers and look just washed out, they did not last long.
We tested some UK tags the other year and although sold as UV protected, after just four weeks in the sun the yellow tags turn white.
We do not sell anything that we have not tested our self, so this will never happen with our products and although they said they sort it out they never did and we stop using this company on the grounds of Bad quality.
Tech Cable Labels is one of the top labeling company for data and telecoms installations.
We offer a wide range of cable labels, patch panel labels and module labels that are supplied on US Letter size sheets and can be printed using any standard office laser printer.
We make and distribute the most quality driven cable labels designed by technicians for use by technicians around the world.
Over the last many years we have used and watched cabling engineers number and label all types of data communications cable and equipment, we have worked in this field and used many cable labels around the world on millions of miles (km) of data cables.
At tech cable labels we decided to put this to good use by designing the best and most cost-effective labels for the cabling technicians. All our staff has at some time been locked in the rack or data communications room just labeling cables hour after hour.
We know what the technicians need to complete the job and we have now included all these into one group of labels which is designed for cabling technicians by technicians with the goal of making life inside that closet more acceptable.
We promise to make your working life better and offer that one on one contact to our staff speaking tech to tech, not sales department or a manufacturer who just makes labels, we use and install all our products, we are Tech Cable Labels.